Totilas was considered a "miracle stallion" and record breaker in dressage riding and was the most expensive dressage horse in the world. His life in equestrian sport was marked by agony and suffering.
Now Totilas died on the evening of December 14, 2020, at the age of just 20 years.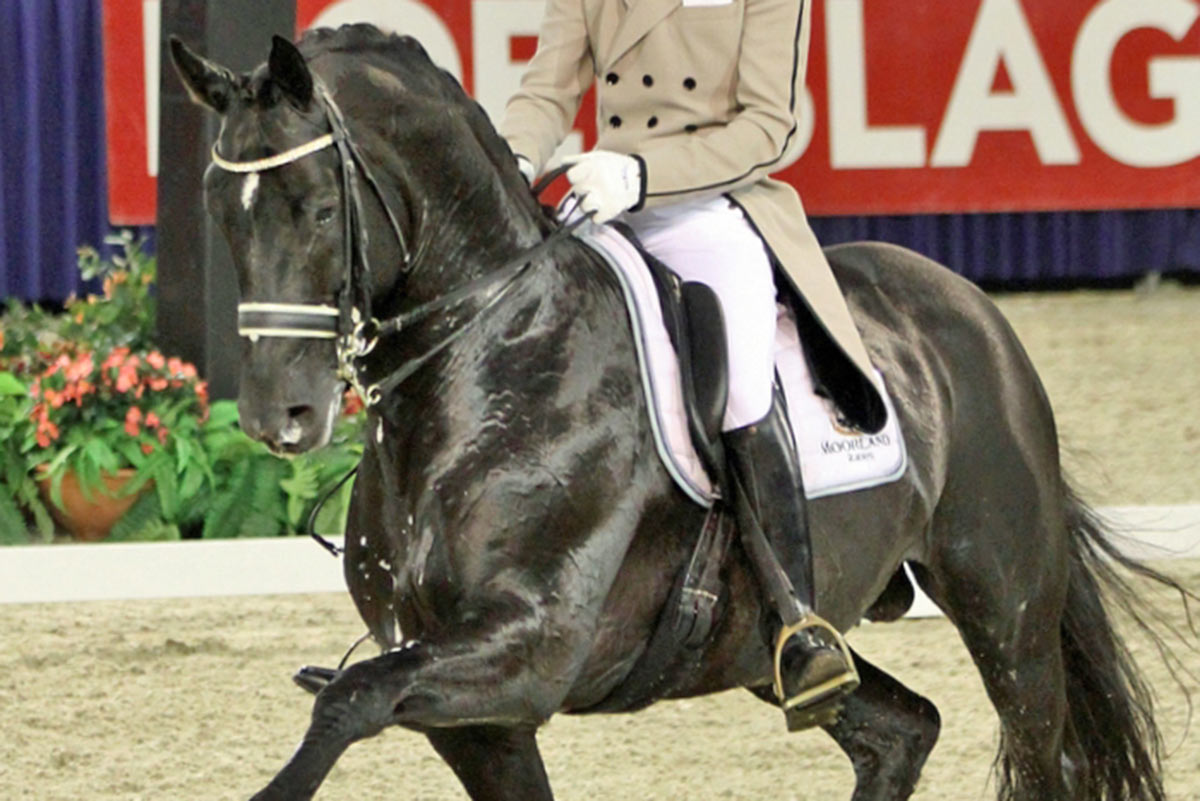 Totilias
A painful death ends his painful life
Totilas died of complications from colic. After an operation, the otherwise healthy stallion got up again but eventually succumbed to the disease.
Animal rights activists mourn the death of the long-suffering animal, which symbolized the pain and suffering of the equestrian sport like no other.
"Totilas is, on behalf of thousands of other horses that are abused as sports equipment, the best-known example of a reprehensible and criminally driven sports business." (

Dr.

Edmund Haferbeck, PETA Germany

)

Tortured with cruel training methods
Totila's life clearly shows that in dressage only success counts and that horses are misused as expensive sports equipment.
After Totilas broke all records in dressage at the 2009 European Championships, he was bought for an estimated 10 million euros by entrepreneur and showjumper Paul Schockemöhle and the Linsenhoff-Rath family.
But the hoped-for successes mostly failed to materialize
In order to achieve the calculated victories in the future, Totilas has been trained with the cruel "roll cure", especially since spring 2012.
The horse's head is pulled down so hard that the neck is systematically overstretched. This is incredibly painful for the animals.

Totila's trainer has been investigated for yearsThe application of the Rollkur at Totilas could be observed at many tournaments.
Almost everyone looked away when the stallion was harassed on the dressage arenas during and before the competitions.
And I mean...Between 2011 and 2013, 46 horses died directly on German horse racing tracks; worldwide there were 735 deaths for gallop and trotting.
This system serves barbaric sensational lust and it is still about the big win, about splintering bones and high stakes … it is what it is: pure cruelty against doomed horses and the complete disregard for life and suffering.
Anyone who earns money in this system can be described as an animal abuser.
It is permissible to keep a horse without access to pasture, to beat it, and to discipline it.
Stress, beatings, brute force, coercion, and fear as well as physical and psychological overload. Horses are chastened, humiliated, broken, locked up, intimidated, threatened, and deprived of their natural needs by force.
This is certainly not the case always and everywhere, but too often and, above all, too naturally.
There are a lot of vets who speak out against racing, but many behind closed doors. It just takes courage to openly attack colleagues and the sport. There is a financially strong lobby on the other side.
Horse racing is a billion-dollar business, it is a tradition and a lot of money is made internationally with it. Worldwide sales are around 90 billion euros, not including the number of unreported cases of "black bets".
My best regards to all, Venus
Filed under: GENERAL NEWS - International / National / Regional |