Opinions differ on the ethical and, in our eyes, clearly cruel background to showjumping.
However, the fact is that only recently in January of this year a horse was brazenly and cold-heartedly beaten with a whip by the German showjumping professional Kevin Lemke in front of an audience.
And this is proven by a horrific video of evidence that any doubters can watch under the following link (be careful: not for the faint of heart !!!): https://vimeo.com/516459284
During a show jumping competition in California, the horror scenes occurred after the horse "Good Luck" refused to jump over an obstacle.
PETA Germany immediately demanded legal action against the alleged animal abuser, PETA USA has already filed a criminal complaint.
The "Desert International Horse Park" was the scene of this cruelty to animals.
"Good Luck" refused to jump over an obstacle and in a probably uncontrolled, massive outburst of aggression you can see Kevin Lemke hitting the poor animal like crazy.
The showjumper proceeds with incredible rigor so that the whip whips can not only be seen clearly on the evidence video but can also be heard.
This earned the German disqualification.
But the torture continued.
Disqualified show jumpers are still allowed to take part in the so-called correction jump after they have been eliminated.
When riding a combination, the battered horse stumbled over the first obstacle due to the extremely stressful situation in which it was and refused the following.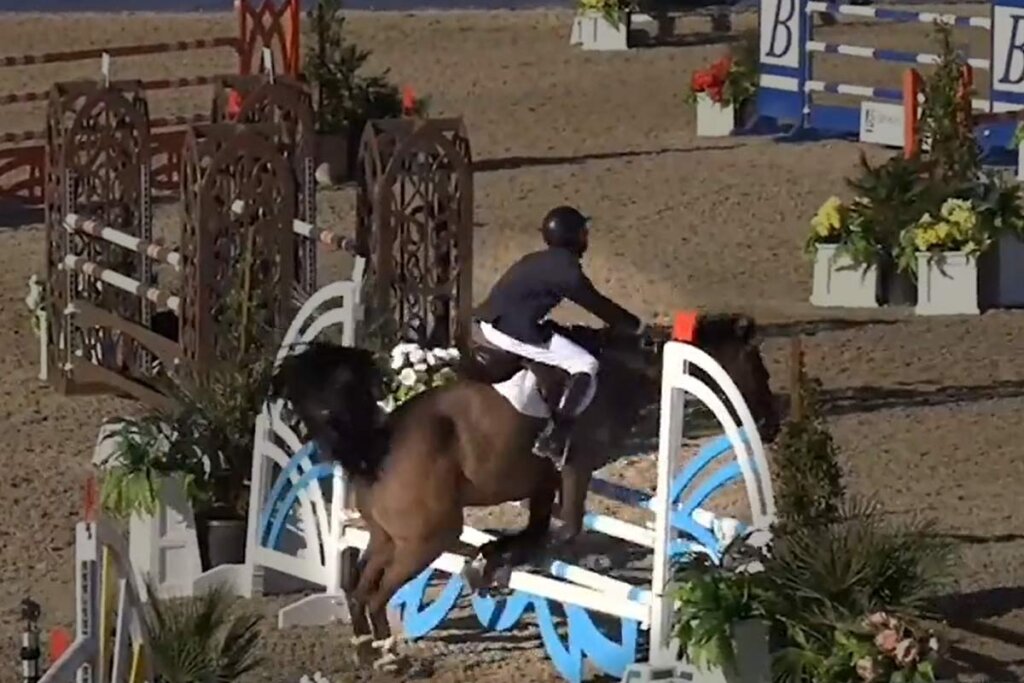 Kevin Lemke with "Good Luck" – This is about more than a mere rule violation – it's about cruelty to animals.
Filed under: GENERAL NEWS - International / National / Regional | Leave a comment »