These are the bile farm bears we're trying to get home
04 December 2016
These six bears have lived for years on a Vietnamese bile farm – we're desperate to get them "home for Christmas" and the happiest new year of their lives.
Trapped in medieval-looking cages, six forlorn moon bears – four males and two females – peer out. Through these tiny holes they can see precious little of an outside world they must surely believe has forgotten them.
Each one has routinely suffered the agony of bile extraction.

Their cages are lined up side by side but they've never been able to reach out and touch a friend. Surely their memories of sunlight and nature are all but gone.
Now, with your help, Animals Asia hopes to rescue them.

The Forest Protection Department (FPD) of Dak Lak province where the bears are being kept has been pressurising the owner to give them up. If successful a small window of opportunity to finally end their suffering will open and the rescue team won't dare delay.
 
Animals Asia's Vietnam Director Tuan Bendixsen said:
"We've been putting a lot of pressure on Forestry departments in the region to force farmers to give up their bears and it's starting to bear fruit. Thanks to our welfare work
helping rescued elephants like Jun and Gold
in the province, we've earned the trust of the local Forestry.
"They know that if they can convince the farmers, we can move quickly, take the bears and give them the health care, companionship and happy lives they deserve."
Any rescue would be a major undertaking – moving six bears, 1,300km from Buon Ma Thuot city back to Animals Asia's
Vietnam Bear Rescue Centre
in Tam Dao, just an hour outside of Hanoi.
Animals Asia founder and CEO Jill Robinson MBE said:
"The bears desperately need help. It's likely that they have been trapped in these tiny cages for up to a decade each. All we know about their health is that they have been tapped for bile and they have most likely lived without any vet care.
"Our priority now is to get them out of there. Then we take their pain away, build up their strength and give them a new life."
To donate, please go to: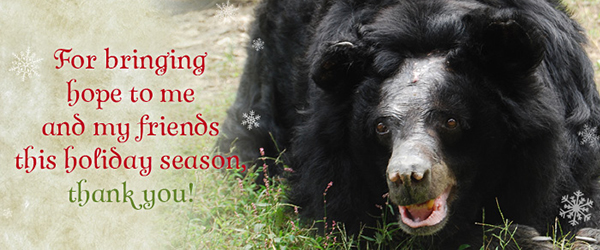 Dear Mark,
The past wounds of so many precious bears have healed and elders like Bronwyn snooze peacefully in the sun.
And at this very moment, your gift is busy helping another poor bile bear as he or she takes those very first steps to sanctuary and freedom.
Thank you for being such a remarkable friend to animals in need.
I wanted to be sure and let you know that your kind gift has reached us safe and sound, and is already working hard for the animals of Asia. For the bears abused on bile farms, the dogs and cats vulnerable to cruelty and for the forgotten captive wild animals.
None of our efforts… not the rescues or the rehabilitation or the medical care or the outreach or the food and safe haven… none of it would be possible without you.
With the happiest of holiday bear hugs from all of us here,
Jill Robinson, MBE, Dr med vet hc, Hon LLD
Founder and CEO, Animals Asia
Filed under: Animals Requiring Adoption or Homes - Worldwide, CAMPAIGNS - Global Animal Welfare Issues, GENERAL NEWS - International / National / Regional, PHOTOGRAPHS - **WARNING** (Animal Suffering), SHELTER - Information, The "Serbian Animals Voice (SAV) ALLIANCE |