Every year, 320 million rabbits are slaughtered for meat in the European Union – and there are currently no legal provisions to protect them. This means that 99% of farmed rabbits are kept in small wire cages with little more space than an A4 sheet of paper.
Animal Equality has repeatedly documented the terrible suffering of rabbits in battery cages in Spain and Italy – where 60% of all rabbit farms in the EU are located.
In Spain alone, we have investigated 70 rabbit farms and 4 slaughterhouses and in each and every single one we have found evidence of extreme cruelty.
Animal Equality has released shocking, never-before-seen footage of rabbits suffering on farms in Europe as part of a campaign to urge Members of the European Parliament to vote in favor of measures that could put an end to the use of barren battery cages for rabbits.
Animal Equality`s investigators have seen rabbits with open wounds, painful eye infections, and even rabbits whose ears have been bitten off by their stressed companions.
Due to the crowded and unnatural conditions, up to 30% of farmed rabbits die or are killed even before arriving at the slaughterhouse – that percentage is higher than with any other farmed animal.
Rabbits are after poultry the most killed land animals worldwide
They are also brutally tortured and killed for other pets such as dogs and cats ️
320 million rabbits are raised and fattened for meat every year in the European Union.
The largest producers are Spain, Italy, and France.
The conditions in which the animals are kept are cruel – there are hardly any minimum standards for keeping them.
99% of rabbits kept in the EU live in tight metal cages, unable to meet even their most basic needs.
Animal Equality has conducted research on 70 Spanish rabbit farms for two years.
In this way, the most comprehensive pictorial documentation of the rabbit breeding industry in Europe was created to date.
Animal Equality,  also succeeded in taking pictures from Italian slaughterhouses and is launching an international campaign, in order to make public the suffering that animals endure in these breeding facilities.
"We are shocked by these images, where farmworkers kill young rabbits by blunt force trauma, and sick animals are left for days crammed inside filthy cages with no veterinary treatment. We as a modern and civilized society, should not tolerate these abuses." ~ Matteo Cupi, Head of Investigations UK
"We are glad to hear, that a respected institution such as the National Theatre has taken a stand against needless cruelty to animals, deciding to remove rabbit meat from their menu, and to break their relationship with Spanish distributors."
"Animal Equality has already taken legal action against 70 farms and 2 slaughterhouses, will continue to shed light on the cruelties inflicted upon animals in factory farms." ~ Laura Gough, Spokesperson.
Help ban battery-cage farming of rabbits in Europe!
And I mean…On March 14, 2017, the European Parliament voted 410 to 205 votes for measures to improve the welfare of farmed rabbits, including drafting legislation to end the use of battery cages.
It was the result of a long-fought initiative by German EX-EU parliamentarian Stefan Eck to protect breeding rabbits.
Compassionate celebrities like Evanna Lynch, Victoria Summer, Peter Egan, and Dave Spikey also supported the campaign.
And so we thought that this legislation would annually help over 340 million rabbits who suffer from extreme ailments in battery cages.
Among other things, this report recommends removing cages so rabbits can be on the ground and develop some of their natural social behaviors.
The new ordinance came into force on August 11, 2014.
That was a step in the right direction, but the new regulation only stipulates completely inadequate improvements in husbandry – in particular, keeping in cages should remain possible.
In addition, the owners of existing housing facilities are granted transition periods of up to 10 years for new construction and conversion measures, depending on the investment requirements, which is why it can be assumed that nothing will change for the animals in the near future.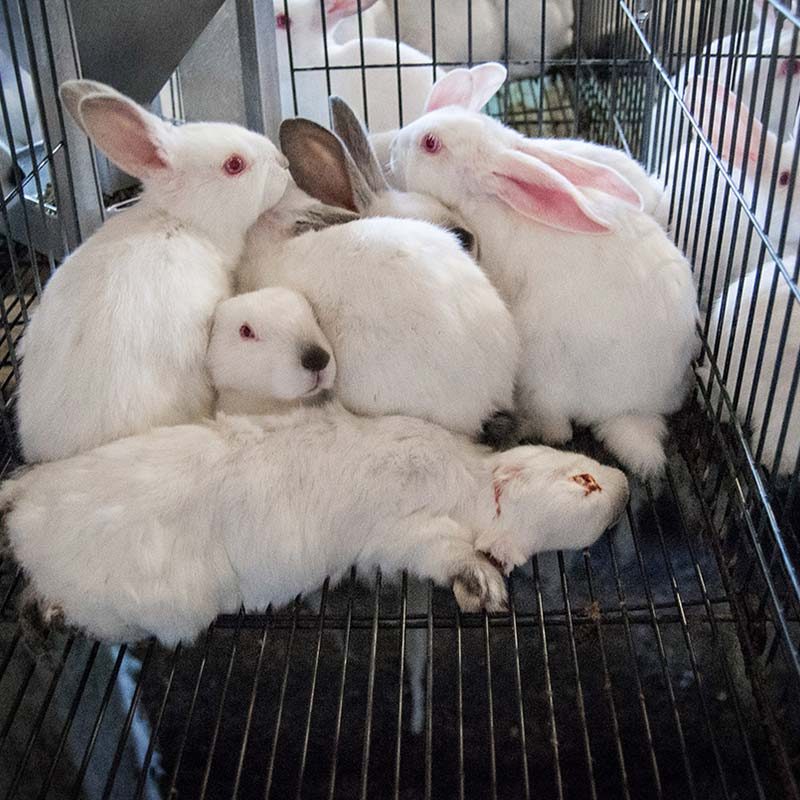 Rabbits are used for different purposes: as a supplier of meat, fur, and angora wool, as laboratory animals, and as pets.
Around 67.5% of the rabbit meat consumed in Germany comes from pure breed rabbits and is largely slaughtered privately and consumed for personal use or sold on a small scale.
In conventional rabbit fattening in large German herds with several thousand fattening places, cage management dominates, which is comparable to the keeping of laying hens in battery cages, which was practiced in Germany until recently.
The metal cages, which are often stacked on top of each other, can be seen from all sides and do not offer the rabbits any retreat or hiding place or any other structuring – only drinking and eating facilities are available.
The grid floor (made of metal, wood, or plastic) is litter-free, which often causes wounds on their legs when the animals stand and sit on the grid.
In addition, little space is given to the animals: The cages are usually 30-40 cm high and contain groups of up to 8 animals. Each individual rabbit has only approx. 800 cm² of usable space available in the finishing fattening: this corresponds to the area of ​​approx.
One DIN A4 sheet plus five EC cards.
Currently, millions of rabbits are suffering and dying in barren battery cages on farms across the EU – in conditions that would be illegal for chickens.
Although it is the second-largest farm animal in Europe, the EU regulations cannot yet guarantee species-specific legislation for the protection of rabbits.
My best regards to all, Venus
Filed under: GENERAL NEWS - International / National / Regional |