April 19, 2021
Team Olympic champion Dorothee Schneider mourns the loss of her championship horse Rose.
The 17-year-old mare collapsed at the Dressage Grand Prix in Pforzheim (Germany) during the award ceremony and died on the spot.
The veterinarian who was called suspected in an initial diagnosis of an avulsion of the aorta.
Rosi and her dressage rider Schneider
The essentials in brief
-At a riding tournament in Germany, a mare dies in shock.
-Dorothee Schneider's horse collapses at the award ceremony and dies.
-The mare Rosi was 17 years old.
Minutes later, only the death of Rosi can be determined by the veterinarians present. As German media report, the cause of death has already been diagnosed: an aortic tear, which caused internal bleeding.
Dramatic.
And too disturbing for the former team Olympic champion from 2016: Schneider suffers a shock. She will be admitted to a local hospital after the events.
On Instagram, the German addresses her fans with emotional words.
«Rest in peace beloved Rosi. You are forever in our hearts », writes Dorothee Schneider.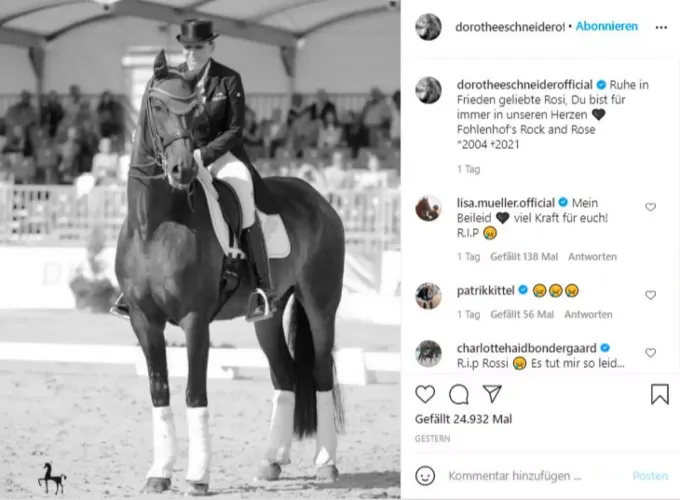 And I mean...It is very likely that Rosi was ridden to death.
The horse belonged to the victorious one Schneider and she could organize any fucking circus with him.
This is usually the case with dressage horses nor is it the first time that a dressage horse dies in the same way.
Her emotional farewell to Rosi is ridiculous because the relationship between a dressage horse and its owner is that of a slave and its owner.
We cannot, therefore, speak of a real partnership, because when it comes to doing business with horses, all that counts is money and a career, not the animal.
Horses in the racing business are being exploited to the last drop of their blood.
It's just perverse to rush animals over obstacles and call it a sport.
We are very saddened by the terrible death of Rosi and we are not interested in the hypocritical Instagrams of her tormentor.
My best regards to all, Venus
Filed under: GENERAL NEWS - International / National / Regional |