Posted on
February 6, 2020
by Serbian Animals Voice (SAV)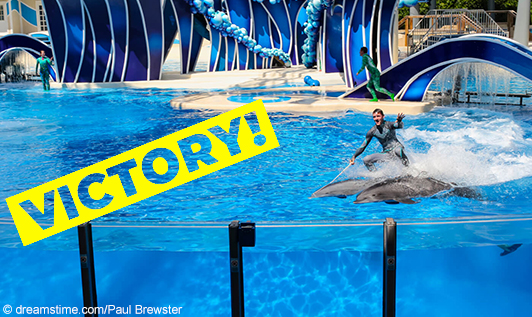 Victory! SeaWorld has been forced to stop treating dolphins like surfboards and will soon stop making trainers stand on their faces in demeaning circus-style shows.
SeaWorld admitted that it's ending the cruel practices in response to PETA's latest shareholder proposal calling for the changes.
Our months-long campaign also included a damning veterinary report exposing the suffering that dolphins endure at the parks, a shareholder question posed by Alec Baldwin, numerous local ads, e-mails from more than 133,000 of our members and supporters, and more.
While we've stopped trainers from treating dolphins like surfboards and launchpads, orcas and other dolphins continue to suffer in cramped concrete tanks. SeaWorld seems intent on being dragged, kicking and screaming, into ultimately releasing these animals to seaside sanctuaries.
Please join PETA in demanding that SeaWorld put a plan in place to move the animals to seaside sanctuaries now.
Take Action:
Thank you for your compassion for animals.
Sincerely,
Melanie Johnson
Assistant Manager, Animals in Entertainment
PETA
Filed under: GENERAL NEWS - International / National / Regional | Leave a comment »