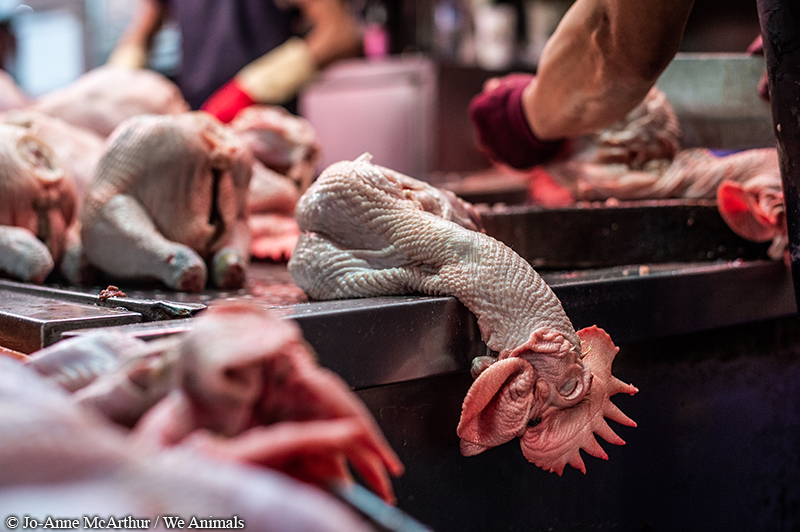 Although New York recently declared a state of emergency over COVID-19—which came from a live-animal market in China—more than 80 live-animal markets and slaughterhouses are operating in densely populated New York City.
Many other disease outbreaks, such as bird flu, swine flu, and SARS, have sprung up from raising and killing animals for food. Help local activists cut off what could become the next disease outbreak at the source.
Petition link –
Wording:
Tell Health Officials to Shut Down Filthy NYC Live-Animal Markets
The novel coronavirus (COVID-19) started in a live-animal market in China and is spreading rapidly in the U.S., where live-animal markets are caging and killing animals while putting public health at risk.
Join PETA and Slaughter Free NYC in urging the New York City Department of Health and Mental Hygiene and the New York State Department of Agriculture and Markets to shutter New York City's live-animal markets immediately.
Live-animal markets are blood-soaked slaughterhouses where members of the public can choose live animals, such as chickens and rabbits, who are then slaughtered while the customer waits. Thousands of terrified animals are trucked from factory farms in other states into New York City each day in cramped, filthy crates. They're often denied food and water, and their throats will be slit.
There are over 80 live-animal markets and slaughterhouses operating in New York City, many of them near schools, parks, and residences. Stressed, injured, and sickly animals are often caged in areas with public access, sometimes even on public sidewalks, where faeces and blood can easily be tracked down sidewalks and into restaurants and homes.
Filed under: GENERAL NEWS - International / National / Regional |