Opinions differ on the ethical and, in our eyes, clearly cruel background to showjumping.
However, the fact is that only recently in January of this year a horse was brazenly and cold-heartedly beaten with a whip by the German showjumping professional Kevin Lemke in front of an audience.
And this is proven by a horrific video of evidence that any doubters can watch under the following link (be careful: not for the faint of heart !!!): https://vimeo.com/516459284
During a show jumping competition in California, the horror scenes occurred after the horse "Good Luck" refused to jump over an obstacle.
PETA Germany immediately demanded legal action against the alleged animal abuser, PETA USA has already filed a criminal complaint.
The "Desert International Horse Park" was the scene of this cruelty to animals.
"Good Luck" refused to jump over an obstacle and in a probably uncontrolled, massive outburst of aggression you can see Kevin Lemke hitting the poor animal like crazy.
The showjumper proceeds with incredible rigor so that the whip whips can not only be seen clearly on the evidence video but can also be heard.
This earned the German disqualification.
But the torture continued.
Disqualified show jumpers are still allowed to take part in the so-called correction jump after they have been eliminated.
When riding a combination, the battered horse stumbled over the first obstacle due to the extremely stressful situation in which it was and refused the following.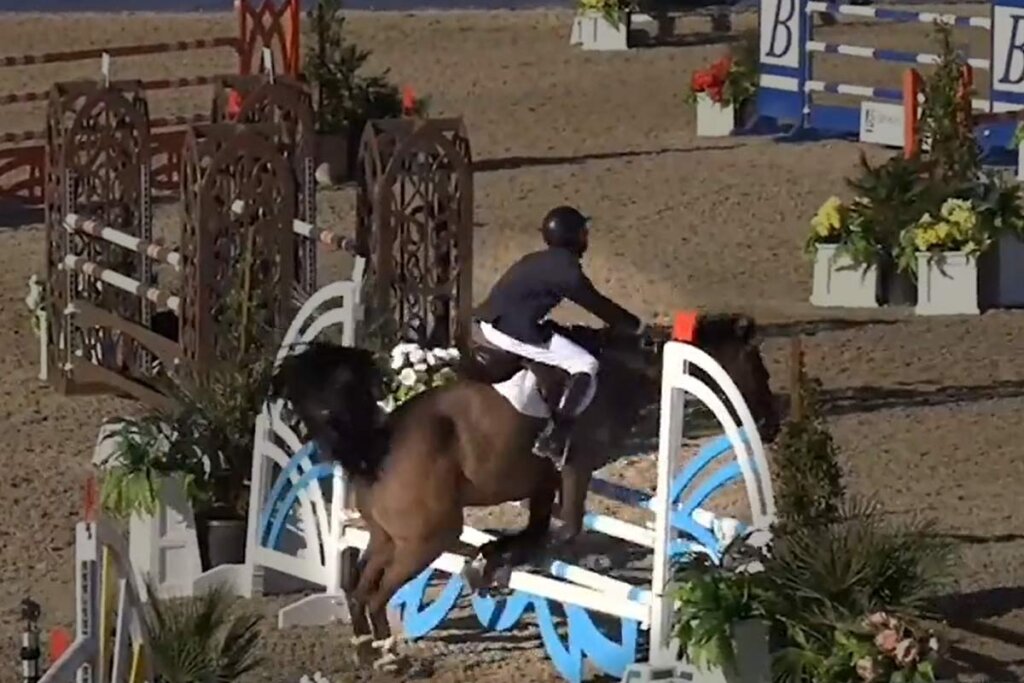 Kevin Lemke with "Good Luck" – This is about more than a mere rule violation – it's about cruelty to animals.
The abuse of "Good Luck" is by no means a trivial offense, but is flawless animal cruelty out of the anger of an offended ego, repugnant, cold-hearted, and despicable.
In addition to the legitimate complaint, PETA also requests the "United States Equestrian Federation" (USEF) and the "Fédération Équestre Internationale" (FEI) to start investigations against Kevin Lemke, who is a member of both.
Such brutality and unforgivable behavior must not be tolerated in any reputable association in the world.
In this forced posture, also known as a roll cure, the horse suffers physical and mental pain.
Quote PETA:
"Lemke carried out this cruelty to animals in public – right in front of the eyes of the judges and other participants. And apparently, he did it without hesitation for a second.
In view of this, one inevitably has to ask how he treats animals when no one is watching.
Studies have proven several times that those who abhor animals often later also offend their fellow human beings.
That is why we insist that law enforcement agencies and the organizations to which Lemke belongs also investigate how his teaching and training hours go behind closed doors. "
We condemn the behavior of this man in the strongest possible terms and also showjumping in general, which was not the first time to attract attention through cruelty to animals.

Horses are also sensitive creatures that do not deserve such brutal treatment.
Sports and entertainment at the expense of animals is always exploitation at its ugliest.
We can only agree with PETA's demand on the two jumping associations, go a step further and demand the withdrawal of the license and a ban for life with the associated professional ban for Kevin Lemke, should the lawsuit bring success.
Only that would be sufficient justice for his crime, which has already been proven by the video and countless eyewitnesses.
Should you also witness animal cruelty, you can report this to PETA using the following whistleblower form:
https://peta.forms-db.com/view.php?id=36682
We also appeal to you to avoid all equestrian events.
As soon as there are no more paying spectators this exploitation of horses will end and scenes like this one in California will be a thing of the past once and for all.
And I mean…There are millions in equestrian sports. The prices for horses in the top sport only start at tens of thousands of euros – but only if they are successful.
There are millions in equestrian sports. The prices for horses in the top sport only start at tens of thousands of euros – but only if they are successful.
Dressage horses have to kick as expressively and spectacularly as possible, show jumpers jump over ever higher obstacles.
The ideal training is often a long way off.
On the way up, many horses are "burned up" – both physically and mentally. If they are lucky, they will end up with a loving owner.
If they are unlucky, they will go through many hands that are all trying to turn them into successful tournament horses.
Others are completely ruined in their health.
There are enough "training" methods that go beyond the limits of animal cruelty. The highly controversial "Rollkur" can be seen in many stables and at tournaments.
With this method, the rider pulls the horse's head down so far that the mouth almost touches the chest. Allegedly this is supposed to be gymnastic, in reality, the horse suffers not only physical but also mental pain in this constrained position.
Another example of this is so-called blistering.
In order to encourage horses to jump higher, they are rubbed with a special ointment above their hooves or on the front of their legs.
The active ingredient capsaicin, which is obtained from the cayenne pepper, promotes blood circulation in human medicine in the case of muscular complaints.
Burning, stabbing pain occurs in high concentration. The horse's skin becomes inflamed and hypersensitive.
If the horse touches the bar of an obstacle, it will find this very painful and will jump higher the next time.
The video has proven it, horses are helpless at the mercy of their riders.
Their methods don't know any Compassion for the animals and are only there to secure the fees of some professional assholes type Kevin Lemke.
My best regards to all, Venus
Filed under: GENERAL NEWS - International / National / Regional |