18 years ago, Brazilian photographer Sebastian Salgado* and his wife Lélia decided to reforest their 600-hectare land in Aimorés, Brazil.
With their friends, they planted more than 2 million trees!

Today there are 293 species of plants, 172 species of birds, and 33 different animal species, some of which were endangered.

It was just then that his parents signed the farm over to him and his wife Lélia.
Salgado was shocked: There was nothing left of the magical forests through which he roamed as a child and first consciously perceived the magic of light and shadow.
Livestock farming and erosion had turned the farm into a lunar landscape.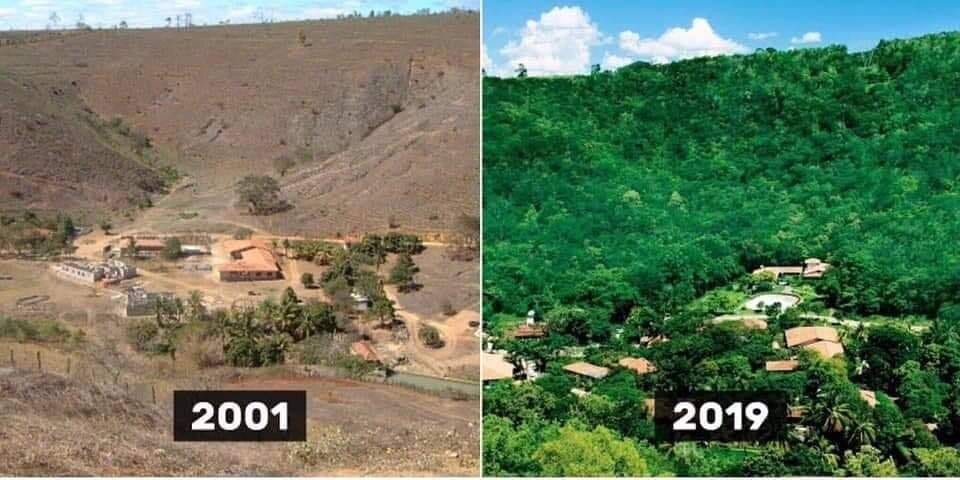 "When we got this piece of earth, it was just as wounded, yes, dead as I was.
Once it was an ecological oasis. When I was a kid, half of the farm was forest and I grew up in a paradise. But now there was less than half a percent forest left. "
His wife finally had the idea, says Salgado. Lélia said: "let's rebuild paradise, let's replant the forest."
With the help of financially strong friends and sponsors, the Salgados took off.
The neighbors were very annoyed at the time because up until now the forest was always cut down to create pastures for the cattle and fields for planting.
The Instituto Terra now delivers most of its seedlings to farmers in the region who also want to reforest their land.
The "Olho D'Água" project, which has been running for ten years, has been particularly well-received.
The aim is to bring dried-up springs back to bubbling through planting. In addition, the agricultural school trains young people from the region on the institute's premises. In the future, they should implement the ideas of sustainable forestry on their parents' farms.
His turning to nature had given him back hope in the world and in humanity.
"When I saw that life that came back so elegant and strong, I began to believe that there are still ways, that there is hope, and that this hope is connected to our planet."
The newfound hope inspired him to write his monumental love letter to earth, the 2013 book "Genesis".
Sebastiao Salgado-Ethiopia
In this book, Salgado's documentation of untouched landscapes, wild animals, and indigenous people shows how urgently their protection has become.
Salgado's optimism could not be shaken by the disaster in Mariana, one of the oldest cities in Brazil, also located in the state of Minas Gerais.
At the end of 2015, the dam of an overburden basin broke there, triggered a mudslide, and contaminated the Rio Doce River, which flows not far from the Instituto Terra.
Within a few days, Salgado had a concept to revive the dead river at hand. He wants to reforest the riparian forests and the tributaries of the Rio-Doce with millions of seedlings.
"I'm 77 years old now, and if there is no accident I'll be 90 or 92 years old," Salgado said in an interview in 2016.
"In the next 15 years, before I die, I would like to see that we restore this valley so that it is as beautiful as it was at the beginning of the last century.
I've been told many times that as a human I was part of the only rational race, but that's a big lie.
All races are extremely rational – deep within and for themselves.
We humans have always put ourselves above all other races, we dominate and destroy everything and we will come to the point where there will be no more place for us on this planet.
That's why I think we should be more self-critical and worry more about others."
Sebastiao Salgado-Africa
*Born on February 8, 1944, in the small Brazilian town of Aimorés, Salgado initially worked as an economist before switching to photography in 1973.
After working for the photo agencies Sygma, Gamma, and the famous Magnum Photos, he founded the Amazonas agency in 1994 together with his wife Lélia Wanick Salgado.
Salgado, who has traveled to more than 100 countries during his career, is also an ambassador for UNICEF, the United Nations Children's Fund. He lives and works in Paris.
My best regards to all, Venus
Filed under: GENERAL NEWS - International / National / Regional |