Posted on
October 5, 2019
by Serbian Animals Voice (SAV)
Posted on
October 5, 2019
by Serbian Animals Voice (SAV)

Six elephants die trying to save each other at Thai waterfall
Six elephants have fallen to their deaths in Thailand while trying to save each other from a notorious waterfall.
Officials said the incident occurred after a baby elephant slipped over the waterfall in central Thailand's Khao Yai National Park.
Two other elephants were also found struggling on a cliff edge nearby, and have been moved by Thai authorities.
The waterfall, known as Haew Narok (Hell's Fall), has a history of similar incidents.
A herd of eight elephants died after falling in 1992, in a case that brought national attention.
Thailand's Department of National Parks, Wildlife and Plant Conservation (DNP) said officials were called to the scene on Saturday at 03:00 local time (20:00 GMT on Friday) when a group of elephants was blocking a road by the waterfall.
Three hours later, the body of a three-year-old elephant was spotted near the base of Haew Narok, and five others were discovered nearby.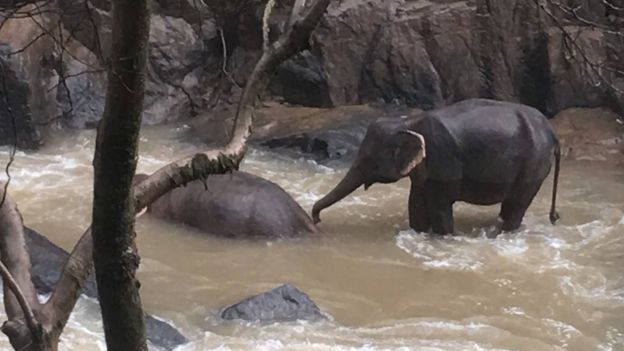 Khanchit Srinoppawan, chief of the national park, told the BBC that the two remaining elephants were being monitored.
Edwin Wiek, the founder of Wildlife Friends Foundation Thailand, said the pair may have difficulty surviving as elephants rely on their large herds for protection and finding food.
The incident could also take an emotional toll. Elephants have been known to display signs of grief.
"It's like losing half your family," Mr Wiek told the BBC.
"There's nothing you can do, it's nature unfortunately," he said.
Around 7,000 Asian elephants remain in Thailand, with more than half living in captivity.
Filed under: Uncategorized | Leave a comment »
Posted on
October 5, 2019
by Serbian Animals Voice (SAV)
Received anonymously:
LPN Fazan "Pheasant" Beltinci is the biggest Slovenian hunting farm for pheasants, Mallard (Anas platyrhynchos) and partridge (Perdic perdix) are also raised.
They are being hunted with dogs or/and falcons. The cages were opened and pheasants, partridges, mallards were guided towards freedom.
Their ascent towards full Moon was something that belonged to them and life purposed.
Their future death should be natural and free. Authorities counted 850 escaped beings.
….and another good news from Chile:
Three torture rings damaged by arson
On September 17, a rodeo ring in La Ligua (Valparaíso) was heavily damaged by fire. According to media reports, leaflets were found at the site, including one that said, "See how your tradition burns. Justice for animals"!
It was the third attack this month against Chilean rodeo.
In the early hours of September 14, a rodeo ring in Paredones (O'Higgins) was set on fire.
Early on September 7, a rodeo ring in Curacaví was damaged by fire. Firefighters found leaflets against the rodeo at the site!
We thank the A.L.F activists
Best regards to all, Venus
Filed under: GENERAL NEWS - International / National / Regional | 1 Comment »