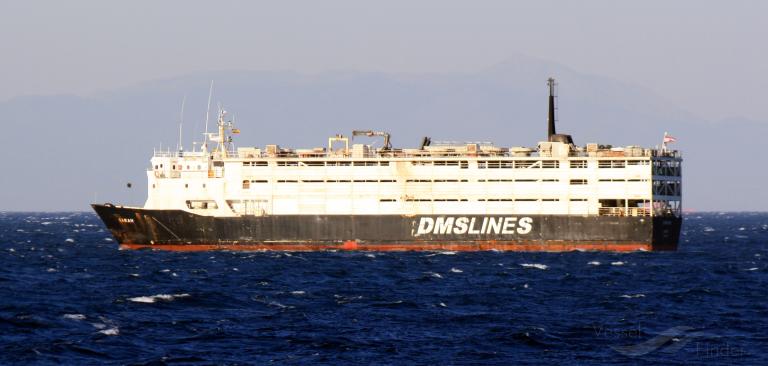 Photo – BENJAMIN MARFIL
As many of you will know; live animal transport is a main hate of ours.
In the recent past we have tracked (daily) vessels taking live animals from Romania to the Middle East –
Rather than concentrate on one vessel sailing with live suffering animals for WEEKS on end; this time we have picked a relatively shorter journey.  It is from EU Ireland to War torn Libya, North Africa.  The particular sailing we have picked is sadly just one of dozens which are taking place the world over at this very moment – live animals being abused by being forced to undertake journeys which usually result in a terrible death for them; and we see no alternative in this for the Irish bulls currently sailing to Libya.
We have chosen this sailing as it has achieved a little more attention in the past few weeks; before it commenced.  Basically, in summary, this shipment of 2,000 bulls could contravene EU welfare regulations, campaigners and others say.
Animal welfare groups have warned that a shipment of young bulls from Ireland to Libya could contravene live export laws.
The shipment, which consists of around 2,000 bulls, would be the fourth this year from Ireland. The vessel in question very recently left from the port of Cork in south-west Ireland, destined for the Libyan port of Misurata.
The news of the sailing came as a European parliament committee of inquiry, announced last month, and began to look into alleged failures to enforce EU rules on protecting transported animals across the EU and beyond, and "to act upon the evidence that EU rules on moving live animals across the EU and to third countries are being seriously and systematically infringed".  Libya is not an EU member state and is thus a 'third country'.
Here is a link which you can read relating to an Irish agriculture bulletin regarding this actual latest shipment:
Note that there are heaps of praise (as the Irish ag industry would expect) for the Irish ministry who supervised the loading of the animals at Cork; but nothing is said whatsoever about the circumstances the animals will endure when they arrive in Libya; or the way in which they will be slaughtered.  Very much a one side of the fence report as we have expected and seen from the European ag industry over the years.
Here below we are giving out a few extra links which we have / currently use at WAV to enable us to track livestock shipments at sea anywhere in the world.  You may want to learn from us how to be a 'livestock ship detective' which may help with your complaints etc to authority should you make them.
First; here are some photos of the vessel o this consignment, named the 'Sarah M'.
and here is a link which provides much more about the vessel (Sarah M) and the particular sailing:  Lots of info here – arrival date, port, ship MO / MMSI etc.
Vesselfinder.com is a good site which is open to use for the public.  Knowing how to use it for maximum information obtain is something which can only be gained by use / experience.
What a surprise we don't think – the vessel is registered in Panama.
| | |
| --- | --- |
| IMO / MMSI | 7808463 / 352548000 |
For information:
The International Maritime Organization (IMO) number is a unique identifier for ships, registered ship owners and management companies. IMO numbers were introduced to improve maritime safety and security and to reduce maritime fraud. They consist of the three letters "IMO" followed by unique seven-digit numbers, assigned under the International Convention for the Safety of Life at Sea (SOLAS).[1][2]
The IMO number scheme has been mandatory for all ships since 1996. The number identifies a ship and does not change when the ship's owner, country of registry or name changes. The ship's certificates must also bear the IMO number. Since 1 July 2004, passenger ships are also required to carry the marking on a horizontal surface visible from the air.
Digital radio identification code for marine stations
A Maritime Mobile Service Identity (MMSI) is a series of nine digits which are sent in digital form over a radio frequency channel in order to uniquely identify ship stations, ship earth stations, coast stations, coast earth stations, and group calls. These identities are formed in such a way that the identity or part thereof can be used by telephone and telex subscribers connected to the general telecommunications network to call ships automatically.
The Irish do not publish this info in magazines; rusty old ships registered in god knows where; and crewed by a group of delinquents who know as much about animal welfare as the grass in my garden !
I hope the links give you an insight into our investigation world and you can even start tracking the vessel given the links and info we have provided.
As you an see from the info provided at  https://www.vesselfinder.com/vessels/SARAH-M-IMO-7808463-MMSI-352548000  the ship is expected to dock in Misurata at around 0800hrs on 8/8/20.  We are keeping track and hope you will.
Happy ship hunting !
Regards Mark.
Filed under: GENERAL NEWS - International / National / Regional |