England: London Parliament – Semi-naked climate protesters disrupt Brexit debate.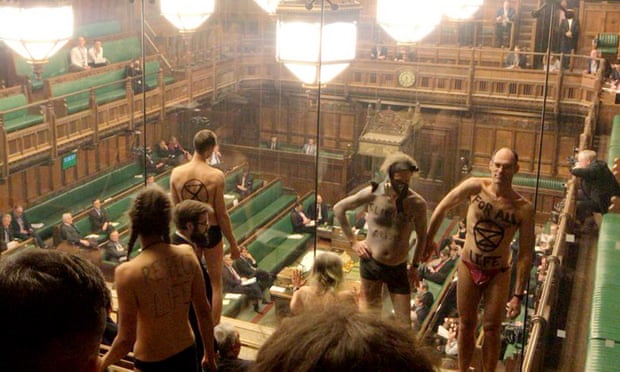 Semi-naked climate change protesters interrupted a House of Commons Brexit debate and
glued their hands to the glass of the public gallery, spending almost 20 minutes with their buttocks facing the chamber.
MPs attempted to continue the debate during the peaceful protest by 11 activists from Extinction Rebellion, though several made coded mentions to the protest in their speeches.
Another of the activists, Iggy Fox, said: "I'm tired of the time and resources our government wastes rearranging the deckchairs on the Brexitanic.
It's high time politicians stop beating around the bush and tackle the environmental crisis head on, like they should have done years ago. I won't stop causing disruption until the government does its duty to protect the people from disaster."
Filed under: Uncategorized |